What's changing
Now in Google Sheets, you can:
Review comments and conversation threads in a sidebar.
Apply filters to find the most relevant comments for getting your work done when a document is highly collaborative.
Page through comment threads in a document in the comment overlay.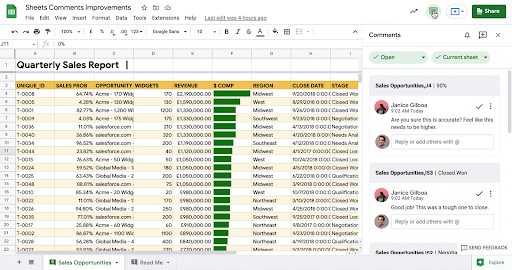 Use the new comments sidebar to see all the conversations happening in a spreadsheet. Quickly reply, resolve, or create new conversations in collaboration with your colleagues.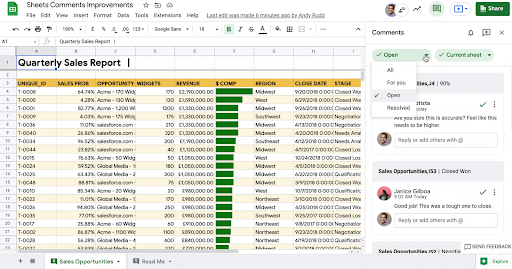 In highly collaborative spreadsheets, apply filters in the sidebar to find the most relevant feedback (for example, comment threads that need your response).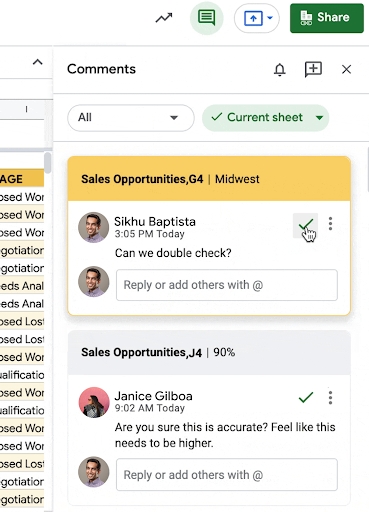 Take action directly in the sidebar when tasks are complete, or conversations have been resolved.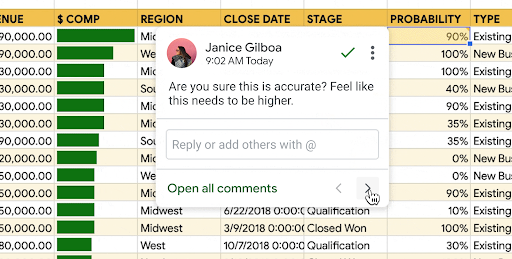 Use the new navigator to progress through comments in the spreadsheet.
Who's impacted
End users
Why you'd use it
Collaborating with teammates is more important than ever, and comments are a powerful way to discuss and collaborate wherever you and your colleagues are, and whenever you're working. By making it easier to review, respond to, and resolve comments in Sheets, it's easier to collaborate to create more impactful data and analysis.
Additional details
With these new changes, you now have easy ways to see and navigate all comments in a spreadsheet by clicking:
The comment icon in the Appbar.
The "open all comments" item in the sheet tab.
The "open" from any comment anchored to a cell.
A new button in the comment overlay that allows you to page between comment threads in a document.
Getting started
Admins: There is no admin control for this feature.
End users: This feature will be ON for everyone.
Rollout pace
Scheduled Release domains: Extended rollout (potentially longer than 15 days for feature visibility) starting on June 16, 2021
Availability
Available to all Google Workspace customers, as well as G Suite Basic and Business customers.
Resources