It has been a week full of interesting launches and I am thrilled to be able to share them with you today. We've got a new region in the works, a new tool for researchers, updates to Amazon Timestream, Control Tower, and Amazon Inspector, Lambda Powertools for .NET, existing services in new locations, lots of posts from other AWS blogs, upcoming events, and more.
Last Week's Launches
Here are some of the launches that caught my eye this past week:
AWS Region in Malaysia – We are working on an AWS Region in Malaysia, bringing the number of regions that are currently in the works to five. The upcoming region will include three Availability Zones, and represents our commitment to invest at least $6 Billion in Malaysia by 2037. You can read my post to learn about how our enterprise, startup, and public sector customers are already using AWS.
Amazon Lightsail for Research – You can get access to analytical applications such as Scilab, RStudio, and Jupyter with just a couple of couple of clicks. Instead of processing large data sets on your laptop, you can get to work quickly without having to deal with hardware setup, software setup, or tech support.
Batch Loading of Data into Amazon Timestream – You can now batch-load time series data into Amazon Timestream. You upload the data to an Amazon Simple Storage Service (Amazon S3) bucket in CSV form, specify a target database and table, and a data model. The ingestion happens automatically and reliably, with parallel processes at work for efficiency.
Control Tower Progress Tracker – AWS Control Tower now includes a progress tracker that shows you the milestones (and their status) of the landing zone setup and upgrade process. Milestones such as updating shared accounts for logging, configuring Account Factory, and enabling mandatory controls are tracked so that you have additional visibility into the status of your setup or upgrade process.
Kinesis Data Streams Throughput Increase – Each Amazon Kinesis Data Stream now supports up to 1 GB/second of write throughput and 2 GB/second of read throughput, both in On-Demand capacity mode. To reach this level of throughput for your data streams you will need to submit a Support Ticket, as described in the What's New.
Lambda Powertools for .NET – This open source developer library is now generally available. It helps you to incorporate Well-Architected serverless best practices into your code, with a focus on observability features including distributed tracing, structured logging, and asynchronous metrics (both business and applications).
Amazon Inspector Code Scans for Lambda Functions – This preview launch gives Amazon Inspector the power to scan your AWS Lambda functions for vulnerabilities such as injection flaws, data leaks, weak cryptography, or missing encryption. Findings are aggregated in the Amazon Inspector console, routed to AWS Security Hub, and pushed to Amazon EventBridge.
X in Y – We made existing services and features available in additional regions and locations:
For a full list of AWS announcements, take a look at the What's New at AWS page, and consider subscribing to the page's RSS feed.
Interesting Blog Posts

Other AWS Blogs – Here are some fresh posts from a few of the other AWS Blogs:
AWS Open Source – My colleague Ricardo writes a weekly newsletter to highlight new open source projects, tools, and demos from the AWS Community. Read edition #147 to learn more.
Upcoming AWS Events
Check your calendar and be sure to attend these upcoming events:
AWSome Women Community Summit LATAM 2023 – Organized by members of the woman-led AWS communities in Perú, Chile, Argentina, Guatemala, Colombia, this event will take place in Bogotá, Colombia with an online option as well.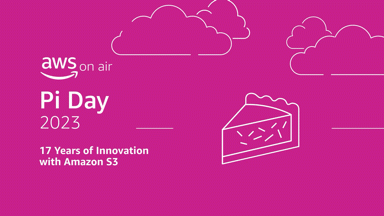 AWS Pi Day – Join us on March 14th for the third annual AWS Pi Day live, virtual event hosted on the AWS On Air channel on Twitch as we celebrate the 17th birthday of Amazon S3 and the cloud.
We will discuss the latest innovations across AWS Data services, from storage to analytics and AI/ML. If you are curious about how AI can transform your business, register here and join my session.
AWS Innovate Data and AI/ML edition – AWS Innovate is a free online event to learn the latest from AWS experts and get step-by-step guidance on using AI/ML to drive fast, efficient, and measurable results. Register now for EMEA (March 9) and the Americas (March 14th).
You can browse all upcoming AWS-led in-person, virtual events and developer focused events such as Community Days.
And that's all for today!